Manage and distribute your Onboarding Kits and swags easily.
Eliminate wasted time packaging and labeling kits. Yoobe gives you more time to do the things that really matter and are needed in your business. Plus, by using Yoobe storage, you can make better use of your office space, which was previously filled with boxes and products that no one remembers anyway.
"The days of intimidating & confusing insurance companies are finally over!"
Done with love from start to finish
You know when you send a surprise kit to each employee's home and everyone is anxious to get it?
And when some of them get it, share photos and the rest of the kits are still on the way?
Thinking of helping you not to go crazy managing all this expectation. (it happens to the best),), Yoobe has created a Swag Track page, where you can view in real time all the information of each shipment: tracking code, recipient name, shipping date, delivery forecast and updated status of the Post Office.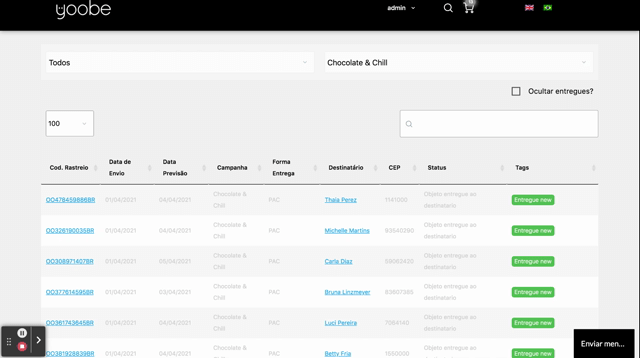 Here we have the most frequent questions about Yoobe Storage and Shipping
Schedule a demo and learn everything we do to help you with storage and shipping.