Startup Ideris joined Yoobe's services to further engage its employees and delight newcomers.
Ideris is the most complete integration hub for marketplace management. It's a multi-channel integration platform for sellers who want to expand their sales through e-commerce and other channels. They offer all the necessary tools for the operation and incredible support that guarantees the success of your business.
In addition to transforming and facilitating the onboarding process, we created together a welcome kit to make anyone's eyes shine *-*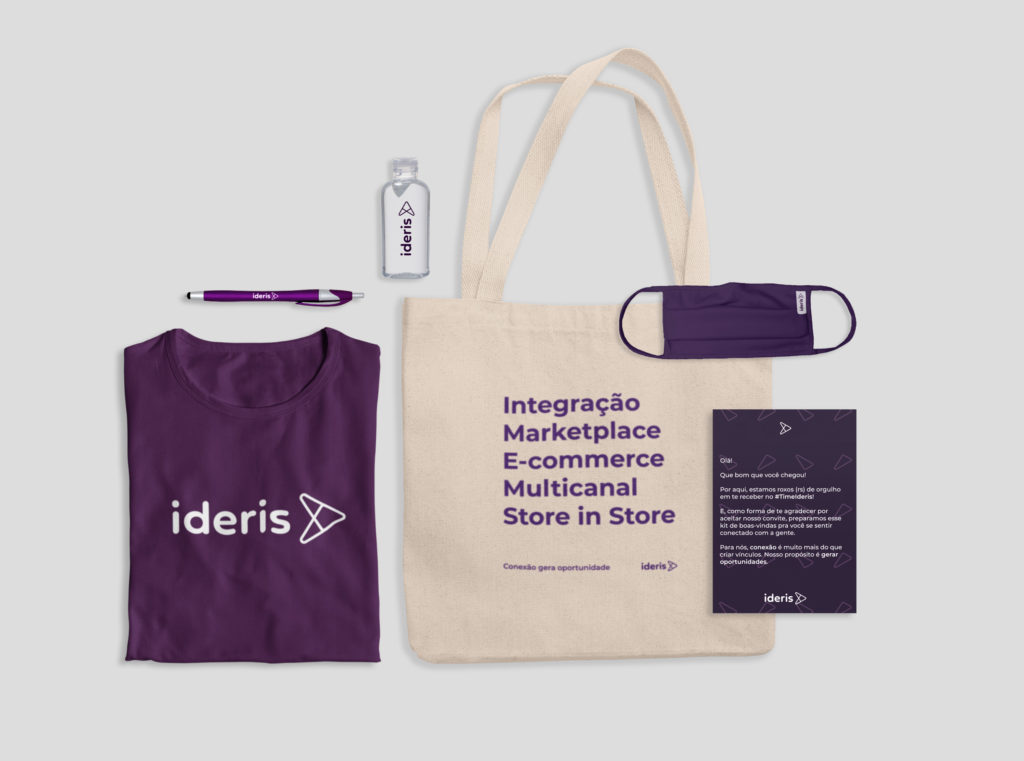 Much more than quality Swags, experience and an attractive design, this kit contains:
✓products aligned with the company's voice and culture, which helps to strengthen the values, beliefs and habits of their business and keep employees always engaged and motivated.
✓care and attention in each step of the production process. We take care of choosing the best products for you and follow every step, even the best way of personalizing, double check on the quality of each item and we prepare the packaging with lots of love for your employees.
✓special care with branding, color and brand guidelines. Yoobe extracts the best from the essence of your company and unleashes creativity when creating the prints for your swags. Always taking great care and attention to small details such as pantone, typography and visual elements that make your company unique.
✓time savings for the HR and Culture and Marketing teams. You know all that effort of having to look for the best products, ask for a quote, send them for internal approval, send art, receive the digital proof, trust that your product is being produced according to the approved layout, receive, arrange, pack, deliver…phew! You get tired by just reading it, right?
Yoobe automates this entire process for you. That's right! Our products are tested and approved before being certified to go on the platform. The cost ​​you can check right here, at the time of purchase. Personalization is done online: you upload the art yourself and visualize how your product will look.
Do you need to receive everything at the company or deliver to the employee's home? We take care of all the logistics and delivery, anywhere in the world.
All of this is possible through Yoobe's Onboarding Kits management automation process. A dashboard for you to track all your team's engagement.
Look what Amanda, Internal Communication and Endomarketing from Ideris, said about the experience of creating the kit with Yoobe: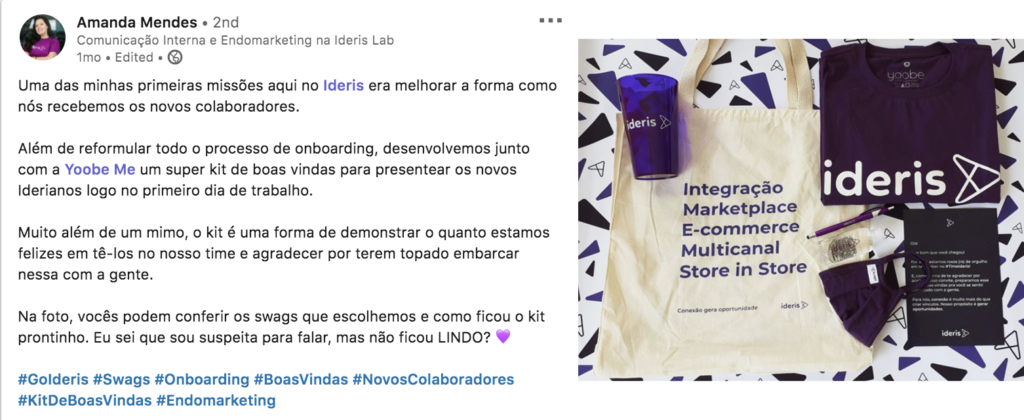 I think the Inderians loved it ❤️
Need to adapt and improve your company's welcome kits? Do you need to send it straight to each employee's home?
Yoobe helps you!